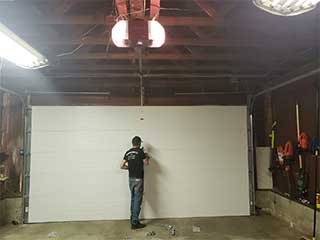 Dealing with a door that's not working properly is more than just a major hassle and an inconvenience. A lot of issues can be annoying, sure, but when such a complex mechanism and heavy panels are involved, there is also an element of danger. Malfunctions can do more than prevent the system from working properly, they can also lead to serious injuries, especially when they're mishandled by amateurs. That's why you should always seek help from professionals like our team when faced with garage door problems of any kind.
Broken Spring Repair
One of the most common problems involves the hardest working parts of the mechanism. Garage door springs wear out gradually over time due to the constant stress they have to work under. It's no wonder they end up breaking when you think about it. Replacing them can be very dangerous even after the actual unit broke, as it will involve loading the new spring with tension, and adjusting it, which can be risky without the proper training and the right tools. Let our experts handle this dangerous problem and avoid putting yourself at risk.
Opener Motor and Carriage Problems
Your automatic door is controlled and operated via a motorized unit that uses a type of drive system in order to initiate and complete the movement of the door. When some hardware part breaks, like the trolley carriage which connects the opener to the door, or when an internal component like the motor gear or even the circuit board fails, the unit will more than likely become inoperable. Trying to continue using it won't just be futile, it will be counterproductive, as it will more than likely damage other parts in the process. Our team has the technical skills necessary to quickly troubleshoot a malfunctioning opener, find the root cause of the problem and solve it without wasting any time.
The Door Gets Stuck
This type of problem could have a few different causes. Some of the rollers may have broken or become worn, a cable could have come off the drum or the tracks themselves are too bent or blocked to allow the door to move. Whatever the case may be, you can rest assured that our team will be able to quickly resolve it. Contact Garage Door Repair Waconia as soon as you notice a problem and we'll send our experts to solve it ASAP.
Want more? Let us take care of:

Part Replacement & Repair

New Opener Remote Controls

Oil Tempered Torsion Springs

Track Replacement & Repair