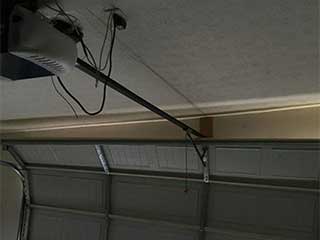 Over time, your garage door opener will begin to wear out. The dozens of different mechanical and electrical components it relies on can start failing, potentially causing further and bigger problems later on. Eventually it'll need to be replaced - but when? Understandably, no homeowner wants to spend money replacing an opener unit before its necessary, but how do you know when the time is right?
Safety System Failures
This is the most important concern - everything else comes second to this. Your opener is responsible for preventing accidents in and around your garage. For example, the door should automatically reverse if it hits an obstacle, and it shouldn't move at all if the safety sensors detect an obstruction. However, it is possible for old circuit boards to fail, preventing the door from functioning properly. In addition, some very old (pre-1982) openers might not have these features at all. If your opener doesn't have this feature, you should definitely consider investing in a new unit.
Single Code System
Criminal ingenuity never ceases. Recent discoveries showed that some intruders found a way of duplicating the signals generated by homeowners' garage door remote. The thought that thieves could enter your home without even forcing a lock is very worrying, which is why many opener manufacturers now offer "rolling code" technology. This changes the generated code each time the opener gets used, so the same code will never work twice. If your opener still works with an old-fashioned single code remote, you may well wish to consider upgrading to a more secure system.
Unreliable And Inconsistent Operation
One of the most frustrating problems a homeowner can experience is a door that sometimes works, and sometimes doesn't. You might find that your door works perfectly all weekend, but when you come to leave for work on Monday it refuses to budge. It might open halfway, and then close without warning. These problems often point to an issue with the opener's circuit board. While these can often be replaced, especially in newer models, it may be easier and cheaper overall to simply invest in a new opener.
Don't hesitate to question our experts at Garage Door Repair Waconia further – we're here to help!